Welcome to Tsuru, Japan
Mount Fuji (富士山 Fujisan, IPA: [ɸɯꜜdʑisaɴ] ), located on Honshū, is the highest mountain in Japan at 3,776.24 m (12,389 ft), 2nd-highest peak of an island (volcanic) in Asia, and 7th-highest peak of an island in the world. It is a dormant stratovolcano that last erupted in 1707–1708. Mount Fuji lies about 100 kilometers (60 mi) south-west of Tokyo, and can be seen from there on a clear day. Mount Fuji's exceptionally symmetrical cone, which is snow-capped for about 5 months a year, is a well-known symbol of Japan and it is frequently depicted in art and photographs, as well as visited by sightseers and climbers. Mount Fuji is one of Japan's "Three Holy Mountains" (三霊山 Sanreizan) along with Mount Tate and Mount Haku. It is also a Special Place of Scenic Beauty and one of Japan's Historic Sites. It was added to the World Heritage List as a Cultural Site on June 22, 2013. According to UNESCO, Mount Fuji has "inspired artists and poets and been the object of pilgrimage for centuries". UNESCO recognizes 25 sites of cultural interest within the Mount Fuji locality. These 25 locations include the mountain and the Shinto shrine, Fujisan Hongū Sengen Taisha, as well as the Buddhist Taisekiji Head Temple founded in 1290, later immortalized by Japanese ukiyo-e artist Katsushika Hokusai.
Oishi Park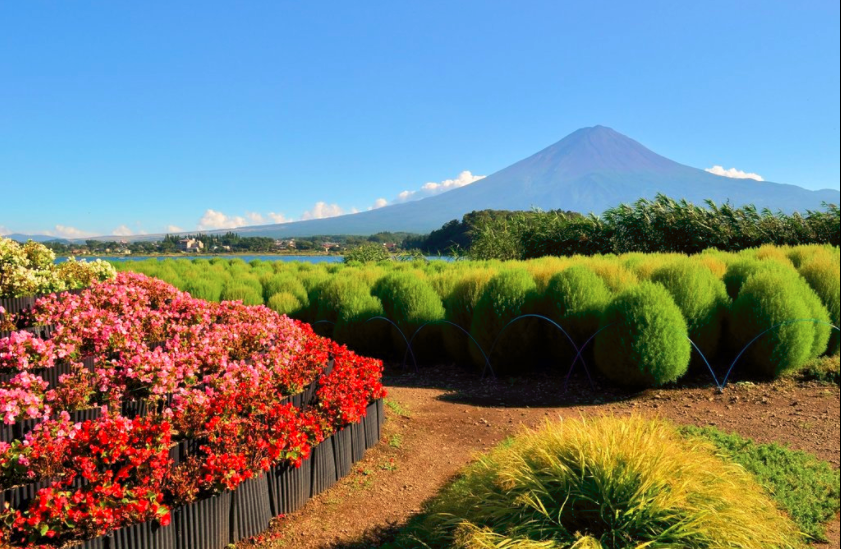 Oishi Park which is located on the northern shore of Lake Kawaguchiko is popular as a scenic spot where you can get a panoramic view of the lake and Mt. Fuji. On good-weather days, the park is swarming with photographers taking shots of the lake and flowers with Japan's famous mountain in the background. The 350m-long Flower Street shows off its seasonal blossoms starting with tulips in late April along with moss phlox and lavender, then kokia in late October. In the summer, there is the Flower Niagara at a length of 130 and a height of 3m and in the winter, there is the wondrous illumination at night so that tourists can enjoy themselves throughout the year.
Lake Kawaguchiko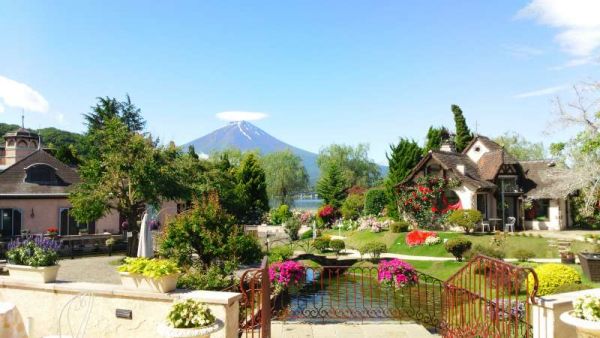 Lake Kawaguchiko (河口湖) is the most easily accessible of the Fuji Five Lakes with train and direct bus connections to Tokyo. A hot spring resort town with various tourist attractions and views of Mount Fuji is located around the lake's eastern end, while the northern and western shores are mostly undeveloped.
The best views of Mount Fuji can be enjoyed from the lake's northern shores and are particularly breathtaking during the cherry blossom season around mid April and the autumn colors around the first half of November. One of the nicest spots for cherry blossoms is the seaside promenade near the Kawaguchiko Music Forest, while photographers will enjoy the "Momiji Tunnel" for autumn colors, a maple tree covered road section along the lake's northern shore.